This is the place for STARGATE SG-1 and STARGATE ATLANTIS novels. Based on the hit TV series from MGM, the novels capture all the excitement and drama of the TV shows that we have come to know and love.
If you like Stargate novels, why not
share with a friend?
---
After suffering a brutal attack off-world, each member of SG-1 finds themselves stranded alone in the Ancient Egyptian afterlife — and on a journey through the Book of the Dead.
With reality shifting around them, Colonel O'Neill, Dr. Daniel Jackson, Major Carter and Teal'c must each navigate a treacherous path toward final judgment in the Hall of the Two Truths. On the way, they will be tested to their mental and physical limits by their past mistakes, their greatest fears and their deepest desires...
Published for Amazon Kindle on 18 August 2016. Print copies coming soon. Click below for more details.
---
When the only surviving member of SG-7 brings Kali's injured First Prime back to Stargate Command, Colonel O'Neill and his team are called on to investigate an attack by the Reetou on one of Kali's homeworlds.
But when a sabotaged Stargate leaves O'Neill, Carter and Daniel trapped off-world, Teal'c must team up with Jacob Carter, Bra'tac and Kali's First Prime to rescue his missing team. Meanwhile, the rest of SG-1 is presented with an offer they can't refuse — help Kali negotiate peace with the Reetou or see thousands of her people massacred.
As time ticks down to the fateful summit, SG-1 must escape from Kali's fortress before they fall victim to the Reetou's deadly subterfuge…
---
This is our second collection of short stories. Following on the success of the first volume, Far Horizons, there are five STARGATE SG-1 and five STARGATE ATLANTIS tales in this collection from some of the best Stargate authors writing today.
Karen Miller • Jo Graham • Laura Harper • Peter J. Evans • Amy Griswold • Suzanne Wood • Aaron Rosenberg • Geonn Cannon • T. Fox Dunham • Sally Malcolm
We hope you'll join as we step through the gate once again.
---
Reeling from the shocking revelation at the end of STARGATE SG-1: Hostile Ground, Colonel O'Neill's team continues its quest to find a way home.
But as SG-1 comes to terms with new circumstances, they find themselves divided. With tensions mounting, the team undertakes a dangerous rescue mission on behalf of their new allies – and O'Neill makes a decision that will threaten the future of his team.
Meanwhile, fleeing the Goa'uld attack, Dr. Janet Fraiser negotiates a treacherous path as she and the other refugees struggle to survive on a barren new world. But she soon discovers that the most dangerous enemies of all are those who lie within…
---
Elizabeth Weir and Ronon Dex are prisoners of the Vanir, whose damaged ship is plummeting into the mountains of Sateda. Meanwhile, Atlantis is in lock down, infected by a virulent contagion, cut off from the rest of the galaxy. And time is running out…
Helped by Dr. Daniel Jackson, Colonel Shepherd's team fight not only to save their city and free their friends, but ultimately to save an entire species from extinction. As tensions rise between the Wraith, the Travelers, and the Lanteans, old enemies — and long lost friends — must unite to walk a third path if the fragile peace in the Pegasus galaxy is to hold.
In this riveting conclusion to the epic Legacy series, the destiny of Atlantis and her people will be decided.
---
When a civilian contractor is murdered at Stargate Command, Colonel Mitchell and SG-1 are tapped by General Landry to investigate the death before it draws unwelcome attention from the Pentagon.
But as it becomes clear that SG-1 are not investigating a simple murder but a conspiracy that extends well beyond the SGC – and Earth – the whole team becomes ensnared in a complex and deadly mystery.
STARGATE SG-1: Murder at the SGC is available in print and ebook format. Click below for details or to order your print copy now.
---
What this means for you is that our paperback orders from Amazon.com will soon qualify for free delivery options, including Amazon Prime and free delivery when you buy a book as part of an order worth $35 or more.
However, while we make the transition, you may be unable to purchase our books from Amazon.com for a few days.
As soon as we know more, we will let you know via our website and Twitter. [Read more]
---
Update: The print edition is here! Now available from our website and from Amazon.com.
STARGATE SG-1 ATLANTIS: Far Horizons is the first book in what we hope will be a new collection of short story anthologies.
In this first edition of Traveler's Tales, we feature 10 short stories - five SG-1 and five Atlantis. From the back cover:
From the early days of "Todd" the Wraith to Teal'c's first experience of the SGC, from Atlantis' past and future to good old-fashioned SG-1 adventures, Stargate SG-1 & Atlantis: Far Horizons brings you a wealth of exciting stories from across the Milky Way and Pegasus galaxies.
Whether you're a fan of STARGATE SG-1 or STARGATE ATLANTIS, there's something for everyone in our first anthology of Travelers' Tales, with ten short stories from ten fantastic Stargate authors:
Jo Graham • Melissa Scott • Peter J. Evans • Amy Griswold
Keith R.A. DeCandido • Suzanne Wood • Diana Dru Botsford
Geonn Cannon • Sabine C. Bauer • Sally Malcolm
So step through the Stargate with us and see what's waiting beyond the event horizon…
The ebook will be launched on 23 October and the print version will be available from this site and from Amazon.com from 6 November. [Read more]
---
Update: Hostile Ground is now available to order in paperback. Click on these links for more details or to place your order now.
It was meant to be an easy mission, a walk in the park. But SG-1's first trip off-world after Colonel O'Neill's return from Edora (STARGATE SG-1: One Hundred Days) proves to be anything but easy.
The Kindle edition of STARGATE SG-1: Hostile Ground has received rave 5-star reader reviews on Amazon including...
If you are a true SG1 fan, you MUST read Hostile Ground.

Awesome read from beginning to end. Action never stopped.

I love stories that keep me wanting to read far into the night. This is such a story. The ending is wonderful and unexpected. I eagerly await the next installment.
In this first book in the Apocalypse Series, authors Sally Malcolm (SG-1: Cost of Honor and Matter of Honor and SGA: Rising) and Laura Harper (co-author of SG-1: Sunrise with Sally Malcolm - under the name JF Crane) take SG-1 on a journey to hell - and only time will tell if they can come back.
Also available in ebook from Amazon [US|UK|DE|FR], Crossroad Press and other good ebook stores.
---
In the fragile peace following Queen Death's defeat, Dr. Daniel Jackson arrives in Atlantis to indulge in some real archaeology. Naturally, things don't go according to plan.
In this much anticipated follow-up to the hugely popular STARGATE ATLANTIS Legacy series (co-authored by Jo Graham, Melissa Scott and Amy Griswold), the writers once again take you on a journey through the Pegasus Galaxy, encountering old friends (and enemies!) in a story you won't be able to put down.
Currently available on Kindle at Amazon (US, UK, Germany and France). Also available from our friends at Crossroad Press.
---
The Goa'uld have been defeated, the Jaffa are free, and in the power vacuum left behind the dark underbelly of the galaxy has started fighting over the spoils.
Among these thieves and rogues are Vala Mal Doran and Tanis Reynard, on the trail of the fabulous treasure left behind by the System Lord Kali. But Vala and Tanis are not the only one seeking Kali's hoard; back at Stargate Command, Dr Daniel Jackson has made a horrifying discovery – a doomsday device designed to exterminate the Jaffa who have dared to defy their gods.
Currently available on Kindle at Amazon (US, UK, Germany and France). Also available from our friends at Crossroad Press.
---
We appreciate that some of our titles have been out of print for a while, so we are pleased to announce they're now available again, thanks to the wonders of print on demand. The titles are:
There are a few titles still out of print - we are working to bring those back as well, so thanks for your patience.
---
When Dr Daniel Jackson discovers the location of a lost Ancient laboratory, the temptation to investigate proves impossible to resist...
In the lab, he uncovers a powerful device — a prototype technology designed by the Ancient inventor, Janus, to supersede the Stargate network. But when the Ouroborus device accidentally activates, it strands General O'Neill and his team on a dangerous new world where friends are not always friends and a terrible enemy is stirring.
Now all SG-1 have to do is survive long enough to find their way home…
Another thrilling adventure from Melissa Scott, co-author of the hit Stargate Atlantis Legacy series.
On Kindle at Amazon (US, UK, Germany and France).
---
The final installment of STARGATE ATLANTIS Legacy is here now, both in print and ebook format.
It's brilliant - I won't say more than that. If you liked the first five books, you'll love this.
To order it in print, click the Order Now button below. To get the ebooks, visit Amazon (US, UK, Germany and France ) or Crossroad Press.
---
Update (25 January 2013) - This book is now available in paperback for you die-hard fans of printed words. Order your copy now - have it in your hands within days!
When last we saw SG-1 (at the end of season 8, that is), a version of the team was stranded in ancient Egypt. What happened to them? In STARGATE SG-1: Moebius Squared, you have the chance to find out.
Stranded in Ancient Egypt at the end of the STARGATE SG-1 episode Moebius, Jack O'Neill, Sam Carter, Teal'c and Daniel Jackson are enjoying the simple lives they've forged in the years since Ra was driven from Earth. But life never stays simple for long…
Back in the twenty-first century, trouble strikes the SGC. With one of their own people snatched by renegade Tok'ra, Colonel Cameron Mitchell leads the new SG-1 on a chase through time to rescue their friend – and to protect their future.
But for Carter, Daniel and Teal'c, the greatest challenge is encountering themselves - and coming to terms with the consequences of their own choices.
Get your Kindle copy now from Amazon (US, UK, Germany and France ) and in other ebook formats from Crossroad Press. Paperback copies are available from this site now.
---
That's it really - STARGATE SG-1 The Drift is available in print... from our book store now. Order it - it's a good read!
The new SG-1 novel is out now in ebook format and in print.
In STARGATE SG-1 The Drift, Earth's Ancient weapons chair is at the center of an international dispute. Dr. Daniel Jackson is sent to Antarctica to sooth diplomatic tensions while General Jack O'Neill reluctantly takes charge of a radical new weapons chair training program.

But when a natural disaster hits Antarctica, the future of the Ancient outpost – and of Earth itself – is thrown into jeopardy. Yet again, Earth's fate lies in the hands of SG-1, but this time the team are lost and powerless to help.

Trapped within a strange reality, SG-1 encounter old friends and enemies as they struggle to escape and stop the Ancient cataclysm that's threatening to destroy the planet.
You can order the ebook from Amazon ( US, UK, Germany and France ) at $4.99/ £3.20/ €4.00 or in other ebook formats from Crossroad Press.
And you can order print copies from this website.
---
STARGATE ATLANTIS: Legacy is available in paperback now, exclusively from this website.
The Legacy series is drawing to a close with the release of book 5 of the six book series.
STARGATE ATLANTIS Secrets picks up from the battle in book 4, as Atlantis struggles to regroup and Teyla continues her dangerous masquerade as Queen Steelflower.
You can order the e-book from Amazon ( US, UK, Germany and France ) at $4.95/ £3.30/ €4.00 or in other ebook formats from Crossroad Press.
---
The latest SG-1 adventure to come through the gate is here. STARGATE SG-1: Heart's Desire sees the team enmeshed in a quest for the legendary treasure, the Heart's Desire.
Print copies (paperback) available from our website now. Follow the order now link below.
Ebook available from Amazon ( US, UK, Germany and France ) at $4.95/ £3.30/ €4.00 or in other ebook formats from Crossroad Press.
---
When disaster strikes, the Atlantis team resort to desperate measures in their bid to save Doctor Rodney McKay from the clutches of Queen Death.
With the lives of McKay and Colonel Sheppard at stake, Teyla Emagan must once again assume the role of Queen Steelflower as she attempts a dangerous subterfuge – a subterfuge made more complex by a tentative alliance with Guide, the Wraith once known as Todd. But in order to deceive Queen Death, Teyla must embrace her Wraith heritage more closely than she has ever done before. So closely that she may lose herself forever…
As the web of intrigue, deceit and betrayal grows ever more tangled, this thrilling installment of the Legacy series takes the team into the very heart of darkness.
---
Something lurks beneath the ancient sands of Egypt. It is the stuff of Jaffa nightmares, its name a whisper in the dark. And it is stirring…
When disaster strikes an Egyptian dig, SG-1 are brought in to investigate. But nothing can prepare them for what they find among the ruins.
Grab your P90 and your GDO and head through the Stargate with author Peter J. Evans as he takes you on another thrilling adventure.
---
OK, it's not Stargate but we couldn't resist telling you that Sally Malcolm, author of four Stargate novels (including Sunrise which she co-authored under the name of JF Crane), has published a historical romance novel called Beyond the Far Horizon. You can find out more by visiting her website.
---
The wait is over! We are delighted to announce that STARGATE ATLANTIS: Allegiance (Book three of the thrilling Legacy series) is now available in hard copy and ebook format.
Or get the ebook version from Amazon (and soon other ebook providers): Amazon US and Amazon UK.
---
We've been adding more ebooks to our collection. There are now 14 available on Amazon sites worldwide and more to come soon. Here's the updated list:
Amazon

•

STARGATE SG-1: Trial by Fire

•

STARGATE SG-1: Sacrifice Moon

•

STARGATE SG-1: A Matter of Honor

•

STARGATE SG-1: City of the Gods

•

STARGATE SG-1: The Cost of Honor

•

STARGATE SG-1: Siren Song

•

STARGATE SG-1: Survival of the Fittest

•

STARGATE SG-1: Alliances

•

STARGATE SG-1: Roswell

•

STARGATE SG-1: Relativity

•

STARGATE SG-1: The Barque of Heaven

•

STARGATE SG-1: Transitions

•

STARGATE ATLANTIS: Halcyon

•

STARGATE ATLANTIS: Exogenesis
Meanwhile, STARGATE SG-1: Transitions, our latest book, is available for download at Barnes & Noble.
---
Sabine C. Bauer's long-awaited STARGATE SG-1: Transitions is available now. Uniting the heroes of SG-1 and Atlantis in a thrilling adventure, it's a must for fans of both series.
As something of a transition for Fandemonium Books, Transitions is available firstly as an ebook and also as a special order print edition.
---
There are more Stargate ebooks available from Amazon (US, UK, France and Germany) now. Newly available titles include:
Amazon

•

STARGATE SG-1: Trial by Fire

•

STARGATE SG-1: Sacrifice Moon

•

STARGATE SG-1: A Matter of Honor

•

STARGATE SG-1: City of the Gods

•

STARGATE SG-1: The Cost of Honor

•

STARGATE SG-1: Alliances

•

STARGATE SG-1: Roswell

•

STARGATE ATLANTIS: Halcyon

•

STARGATE ATLANTIS: Exogenesis
All of the new ebooks are priced $4.99 (or the equivalent in other currencies). Please note, previous Stargate ebook titles may still be priced slightly higher.
---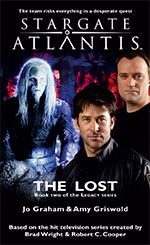 STARGATE ATLANTIS: The Lost
Homecoming certainly left everyone dangling off the edge of a rather large cliff, but the wait is over and book two, STARGATE ATLANTIS The Lost, is now available to order. Books will dispatch by MARCH 7th (sooner, we hope!).
By Jo Graham and Amy Griswold, this book finds the team reeling from the terrible events of STARGATE ATLANTIS: Homecoming, with the expedition team doing whatever it takes to find Doctor Rodney McKay - even if it means turning to their enemies for help.
We're also really excited to announce our new partnership with Crossroad Press who are busily working to convert our novels into ebooks. STARGATE ATLANTIS The Lost will be available to download as an ebook from MARCH 14th with other titles (including STARGATE ATLANTIS Homecoming) following soon after. We'd love to get your feedback about our ebooks, so drop us a line at info@stargatenovels.com to let us know what you think!
But it's not all about the Pegasus galaxy this month, as we also catch up with the original team in STARGATE SG-1 Sunrise.
J. Frances Crane takes the story right back to season four for this classic STARGATE SG-1 adventure.

On the abandoned outpost of Acarsaid Dorch, Doctor Daniel Jackson makes a startling discovery - a discovery that leads SG-1 to a world on the brink of destruction.
STARGATE SG-1: Sunrise is available to order now for dispatch starting MARCH 7th and will be available to download as an ebook from Crossroad Press from MARCH 28th.
Fandemonium Books is thrilled to present STARGATE ATLANTIS: Legacy. This series of six novels set after STARGATE ATLANTIS' final season sees the city of Atlantis return once more to the Pegasus Galaxy. But much has changed while the team has been away and a new and deadly leader of the Wraith has emerged - a Wraith Queen with her eyes fixed firmly on Earth.
STARGATE ATLANTIS: Homecoming by Melissa Scott and Jo Graham is the first book in the Legacy series and is available now from Fandemonium Books.
John Sheppard's having one hell of a bad day in STARGATE ATLANTIS: Death Game. Waking up in a crashed jumper, with a concussion and a hefty dose of amnesia, he thinks things can't get any worse. He's wrong. Because with his team scattered across an alien world, the chances of anyone getting back to the gate is starting to look very slim…
Things hot up for the team in STARGATE ATLANTIS: Brimstone. When Doctor Rodney McKay discovers a moon leaving planetary orbit on a collision course with its own sun he can't believe his eyes. But what he finds there is even more incredible, and threatens the lives of his whole team…
---
We've updated the Writers' Room. There are now Q&As with eight of our authors, which gives you an insight into what makes them fans of Stargate.
Check it out >>.
---
As we leave summer and head into autumn, we're in a frenzy at Fandemonium Towers, delivering a bonanza of books for your reading pleasure.
This month, it's the turn of SG-1 to bask in the glory as both books are devoted to this intrepid team. But fret not, ye Atlantis fans, for next month the balance is redressed with two new novels featuring Shep and the team.
In Four Dragons, author Diana Dru Botsford tests the bonds of friendship to the limit as Colonel O'Neill must risk everything to rescue Dr Daniel Jackson after the intrepid archeologist accidentally triggers a Goa'uld transport ring and is imprisoned by Lord Yu.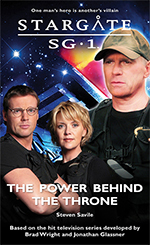 In The Power Behind the Throne, the team must battle a faceless, formless creature on a planet of terrible wickedness. By award-winning author Steven Savile, this book will take you on an unforgettable journey into the heart of darkness.
---
In a series of six novels set after STARGATE ATLANTIS' final season, the groundbreaking STARGATE ATLANTIS Legacy series from Fandemonium Books sees Atlantis return to the Pegasus Galaxy. There they must take on Queen Death, a new and deadly leader of the Wraith, who has her eyes firmly fixed on Earth.
Moving the story forward, the STARGATE ATLANTIS: Legacy series takes our favorite characters into brand new territory - which means that anything can happen, to anybody! The stakes have never been so high.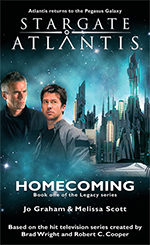 Book one of the Legacy series, STARGATE ATLANTIS: Homecoming, will be published in October 2010. Written by Jo Graham and Melissa Scott, both well regarded authors in their own right, it delivers all the action, humor, and drama of the show and will leave readers waiting breathlessly for the next instalment.
Melissa Scott won the Campbell Award in 1986 for her first novel. Since then she's written more than twenty books, including Dreamships, A Choice of Destinies, Five Twelfths of Heaven, and the Lambda Literary Award winning Shadowman. She's also written two Star Trek novels and, with her partner Lisa A. Barnett, the acclaimed Points series.
Jo Graham is the author of three historical fantasy novels, including the Locus Award nominated Black Ships, as well as the upcoming novel STARGATE ATLANTIS Death Game.
The STARGATE ATLANTIS Legacy Series:
Book 1: Homecoming - October 2010
Book 2: The Lost - February 2011
Book 3: Allegiance - June 2011
Book 4: Avengers - October 2011
Book 5: The Secret - Spring 2012
Book 6: The Inheritors - Summer 2012
---
In the coming months we'll be introducing a number of new authors to the Stargate novels franchise, as well as welcoming back some fan favourites. In our new section, the Writer's Room, you can find out all about our authors, about how they started writing, and – most importantly – about why they love Stargate.
Starting with Aaron Rosenberg, author of STARGATE ATLANTIS: Hunt and Run, and Chris Wraight, author of STARGATE ATLANTIS: Dead End, we'll be posting interviews with all the authors of our new books as they're released. We hope you enjoy getting to know them as much as we have!
In the Writer's Room now:
---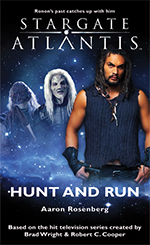 STARGATE ATLANTIS: Hunt and Run by Aaron Rosenberg
Ronon Dex is a mystery. His past is a closed book and he likes it that way. But when the Atlantis team trigger a trap that leaves them stranded on a hostile world, only Ronon's past can save them – if it doesn't kill them first. As the gripping tale unfolds, we return to Ronon's earliest days as a Runner and meet the charismatic leader who transformed him from prey into a hunter of Wraith….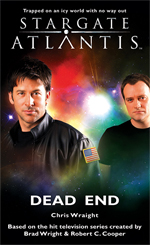 STARGATE ATLANTIS: Dead End by Chris Wraight
Stranded on a frozen planet only days from global catastrophe, Colonel Sheppard and his team discover a people – and a mystery – long forgotten by the Ancients. But with the Stargate inoperable and their Puddle Jumper damaged, there is no way to escape the dying world of Khost. And then disaster strikes. With half the team going missing, Sheppard and McKay must battle the elements and the limits of endurance to bring their friends home.
---
For older material, go to the archives >>